Janina Benduski
Janina Benduski, born in 1978 in Berlin. Studied Theatre/Cultural Communication  and Japanology at Humboldt University, Berlin, and Cultural Studies at Viadrina University, Frankfurt/Oder. While still studying, she began working in 2000 as a dramaturge and production manager at, for example, the Ballhaus Naunynstraße and Saalbau Neukölln. In 2006, she founded "ehrliche arbeit – freelance office for culture" (the name means "honest work" in German), a collective of producers for contemporary performing arts. "ehrliche arbeit" oversees concept and project development, project and  production management, press and public relations, dramaturgy, text and translation work, and much more. She has been a member of the music theatre group Oper Dynamo West since 2006 and has worked on concept development, press and public relations, dramaturgy, and production management for over 16 urban space projects of Oper Dynamo West since. Since 2009, she is an honorary elected member of the steering committee of the Association of Independent Theatre Makers (LAFT), Berlin. Since 2012, she is member of "Berlin der Begegnung", an interdisciplinary network of the Einstein Foundation Berlin. Since 2013, she is Director of the LAFT Berlin Performing Arts Program.
ehrlichearbeit.de
Bernhard M. Eusterschulte
Born in Wadersloh (North Rhine-Westphalia) in 1962. 1982—1989: Study of theatre arts, philosophy and German at the LMU, Munich. Periods of practical instructions, assistant director and assistant stage designer of, among others, R. Berghaus, A. Freyer and B. Willikens. 1994—1996: Assistant director,
Stadtheater Heilbronn. 1993—1994/ 1996—1999: Study at the Akademie der Bildenden Künste under Prof. Ben Willikens. 1999: Foundation of the independant theatre group TART Production / artistic assistant at the Akademie der Bildenden Künste Munich. Since 1997: Lives and works in Stuttgart as director, stage designer and artist.
www.tart-produktion.de
Barbara Friedrich
Barbara Friedrich has extensive experience in the field of dance. She began her career as founder and curator of the festival Tanztage Berlin (12 editions since 1996). Meanwhile, she works as an agent of dance artists abroad and is a partner in Dance Roads, an international project financed by the European Commission. Since 2004 she has been the Director of Tanzbuero Berlin, where she works on the development of cultural policies and advocates for the dance community in Berlin. She is the initiator of the TanzRaumBerlin network, which also publishes a newspaper and keeps an online platform under the same name. Within this period, she launched the initiative Inter-University Centre for Dance Berlin. In 2010 she founded and became executive director of the centre for contemporary dance Uferstudios, Berlin, located in the former depot of the public transport, which now has 14 studios, a stage and a specialized library.
mail@uferstudios.com
Nan van Houte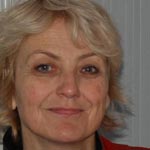 Nan van Houte has 35 years' professional experience in arts and culture as a dramaturg, general director, artistic director, programme eveloper, producer and journalist. She also has broad expertise in advocacy for culture in local, national and European councils and boards. Previously she worked as Programme Developer and Head of the International Department of Theater Instituut Nederland and before that as Director of [NES]theaters, the combined venues of Frascati and de Brakke Grond in the centre of Amsterdam. Since 2008 she is the cofounder and coordinator of Breaking the Silence, a theatre programme supporting reconciliation in post genocide areas in Cambodia and Rwanda. She was on thard of IETM from 2001, as Vice-President 2003—2006 and President in 2007.
ietm.org
Sabine Kock
Education as actress in Salem from 1980—1982, afterwards studies of German literature, drama, media and philosophy at the universities of Kiel and Tübingen. Besides she did fringe theater work and journalistic work as member of a newspaper Kassandra. Since September 2000 living and working in Vienna. 2000—2003 working at university of Vienna to coordinate and build up the interdisciplinary field of gender studies (published: Gender Studies. Perspektiven von Frauen- nd Geschlechterforschung an der Universität Wien, Wien 2005). Since September 2003 manager of the Association of Independent Theaterwork Austria (IG Freie Theaterarbeit). Also working on cultural affairs as board member and from 2005 to 2012 as head of the board of Cultural Council Austria (Kulturrat Österreich) . Together with others in 2005 founding of the European Off Network (EON). Participation in around 70 inter ministry committee meetings in the context of eight working groups about mobility, taxes , working conditions and law, social status of the artists, social insurances, funding, gender affairs, actors law.
s.kock@freietheater.at
 
Vesela Kondakova
Vesela Kondakova is a consultant in the area of the culture and the cultural projects and programs. Since 2010 she is a coordinator of Cultural Contact Point of Culture Programme 2007—2013 of the European Union. She is responsible for presenting the Programme on National level, providing information, support and technical assistance to the cultural operators. She has master degree of Slavonic philology from the University
of Plovdiv.
kondakova@gmail.com
Andrea Oberfeld
Andrea Oberfeld (born 1977 in Berlin) studied theatre science and art history at the Humboldt University in Berlin. During her studies she worked as a tutor in the art history faculty focusing on architectural terminology and history. During this time she was a member of several theatre companies and worked as an assistant director and dramaturg. Since 2008 Andrea is one of six owners of ehrliche arbeit (honest work) – freelance office for culture. Since then she is working as a freelance producer for national and international performing arts and is working in close association with e.g. the music performance group Oper Dynamo West, performance group Labor für kontrafaktisches Denken, the Australian dance collective Animal Farm Collective and many others. In her work she combines concept and project development, communication with funders, association and cooperation partners, budget creation, budget controlling with editing and creating texts, press and PR work. She is giving further education workshops about cultural management and arts administration and was part of the study and publicationReport Darstellende Künste – Wirtschaftliche, soziale und arbeitsrechtliche Lage der Theater- und Tanzschaffenden in Deutschland (Hrsg.: Fonds Darstellende Künste, Kulturpolitische Gesellschaft e.V. / Klartext Verlag Essen 2010). She is based in Berlin but also works nationally in Germany and internationally.
ehrlichearbeit.de
Actor, playwright and director of a theatre (1992—1994, Bergtheater in the town of Thale, Harz region, Germany). He graduated in Theatre Studies (as a Master of Arts). Since 2002 he has been the administrative director of the Regional Council for Independent Theatre of Baden-Württemberg and since 2006 he has been the first President of the Germany's Federal Union of Independent Theatre.
alex.opitz@t-online.de
George Sachinis is a graduate of ACS  (May, 1993), Central School of Speech and Drama (MA course in Advanced Theatre Practice), UC Berkeley (MSc Environmental Engineering) and Duke University (BSc Environmental Engineering, Certificate Institute of the Arts performance art and literature strand).
He is the founder of "ohi pezoume  performing arts company", a nonprofit collective of artists supported by the Ministry of Culture. He has artistically directed the company's seven theatre productions and has been the producer of its non-profit projects. He has also attended workshops at Studio: The theatre of Changes, Athens, Greece and Odos Theatre, Salonika, Greece and individual workshops by Marcello Magni (Theatre de Complicite), and Lilo Baur (Theatre de Complicite).
george.sachinis@gmail.com
Gina Serbanescu is a playwright, a critic in the field of performing arts and an expert on European projects.  She has had publications in Romanian editions such as Cultural Observatory, Dilemma, Theater Today, Romanian Review of Contemporary Philosophy and some others. In 2008 she worked on the programme Cantemir of the Romanian Cultural Institute and since 2011 has lectured at the University of Bucharest. She participated in the project The Dance in the Mirror; Drawer 2 (Sertar 2 – Celebration of the Memory of Trixy Checais (1914—1990) – a Romanian dancer and choreographer) in cooperation with the National Dance Centre Bucharest; the platform: The Meaning of the Body in Contemporary Dance.
gina_serbanescu@yahoo.com
Marie Le Sourd
Marie holds a Diploma of Political Sciences from the University of Grenoble (including one year at the University of Leipzig, Germany) as well as a Master of Law on International Cultural Exchange and Relations from the University of Lyon. From 1999 to 2006 she was in charge of programme in the Cultural Exchange Department of the Asia-Europe Foundation based in Singapore (ASEF), particularly in the fields of young artists' exchange, development оf cultural policies and networks of cultural professionals. In September 2006 she joined the French Ministry of Foreign Affairs, working as the director of the French Cultural Centre in Yogyakarta (Indonesia). Since January 2012 Marie is the Secretary General of On the Move, ensuring the daily management of the organisation and the implementation of OTM's strategic plan 2011—2013.
mobility@on-the-move.org